5G-DRIVE successfully held its "5G-Trials – From 5G Experiments to Business Validation" workshop last May 20, 2019 in Shanghai, China. The workshop was held within the framework of the IEEE International Conference on Communications, which was held from the May 20-24, 2019. The workshop included relevant keynote and paper presentations focusing on the current progress of 5G-Trials from across the globe and in various domains.
Attended by more than 40 participants, the workshop kicked off with an introduction from 5G-DRIVE coordinator Mr. Uwe Herzog. Keynote speakers included Dr. Chih-Lin I (China Mobile Research Institute), who presented the "Twists and Turns of 5G Journey"; Mr. Matti Kutila (VTT) and Mr. Yang Yang (IoT Lab).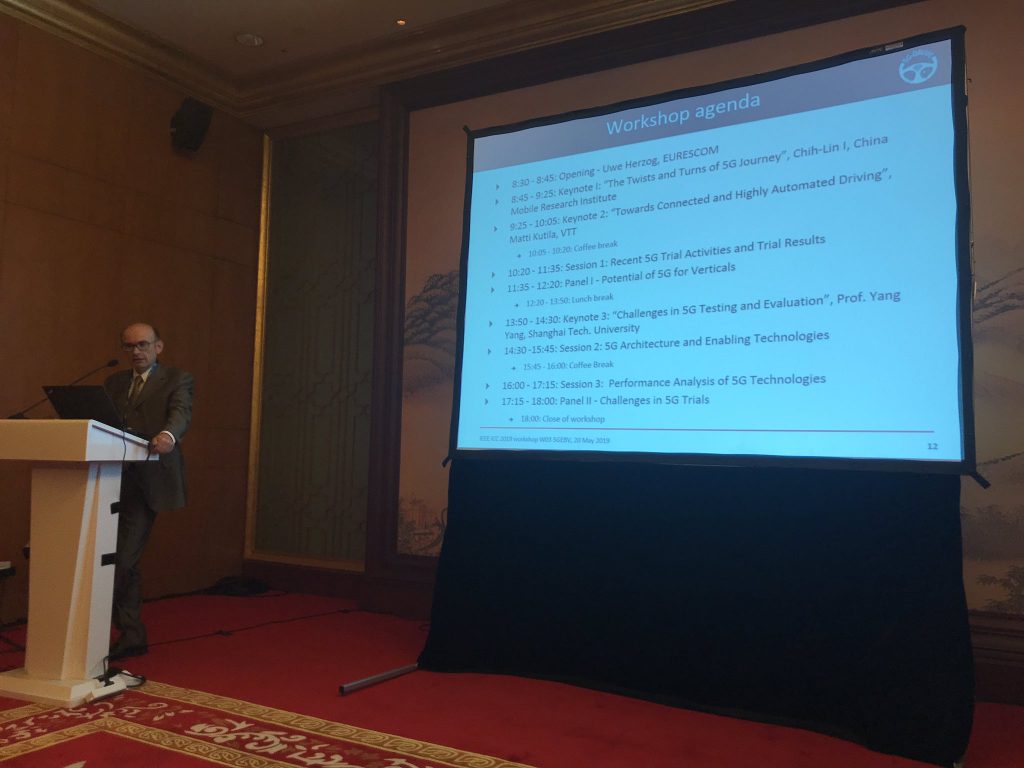 In addition to these keynotes, presentations from the paper submissions were grouped into three main sessions.
The first session focused on recent 5G trial activities and trial results, and included five presentations: 5G Trial Cooperation between EU and China; The 5G EVE end-to-end 5G facility for extensive trials; C-V2X Supported Automated Driving; Testbed Verification of New Fronthaul Technology for 5G Systems; and Indoor positioning platform to support 5G location based services.
The second session focused on 5G architecture and enabling technologies, and included presentations on Deploying a 5G Architecture for Crowd Events; Research of D2D Communications Mode for 5G Vehicular Networks; Database Supported Flexible Spectrum Access – Field Trials in Commercial Networks; Application and Experiments of 5G Technology Powered Industrial Internet; and Recent Trials of G.metro-Based Passive WDM Fronthaul in 5G Testbeds.
The third and final session focused on performance analysis of 5G technologies, and included presentations on the Impact of Analog Precoding Types on the Spectral Efficiency of Millimeter Wave Hybrid Beamforming Systems; Performance Analysis of Urban Mmwave Multi-hop V2V Communications with Shifted-Exponential Distribution Headway; A Traceable Approach to Remote Interference Management for New Radio; Analysis of Test Volume Size in 3D MIMO OTA for 5G; and
Performance Analysis of Cell-free Massive MIMO Systems under Limited Feedback.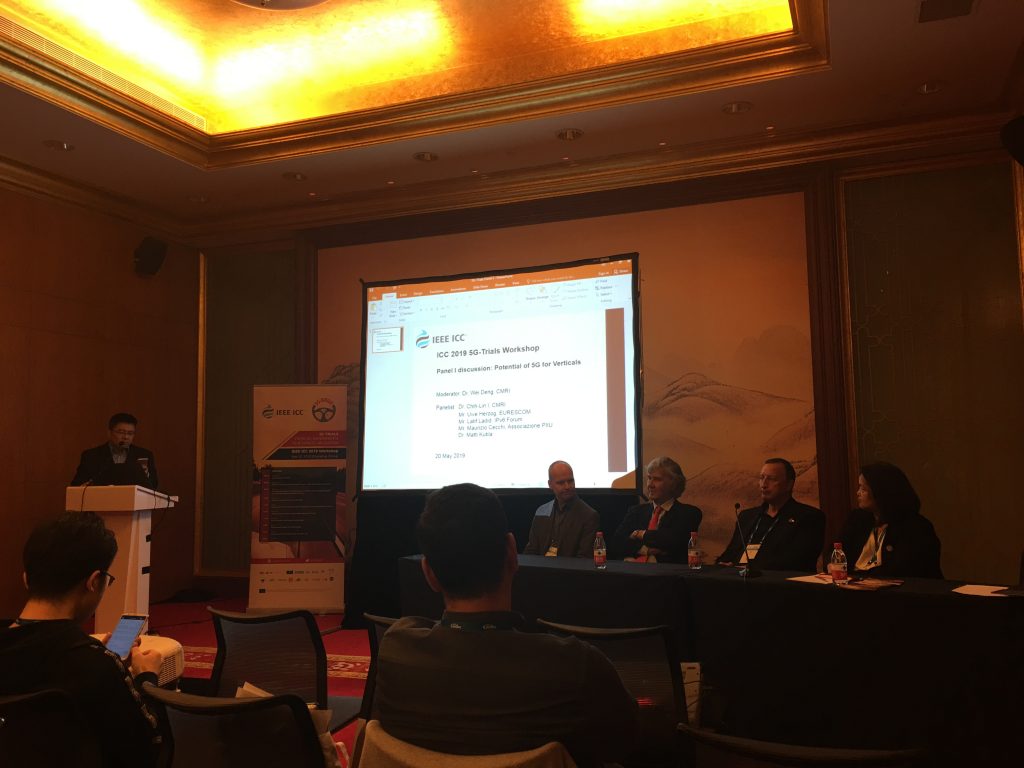 Lastly, the workshop included two panel discussions, one on the Potential of 5G for Verticals, moderated by Wei Deng from the Chinese Mobile Research Institute (China); and another on Challenges in 5G Trials, moderated by Tao Chen from VTT (Finland).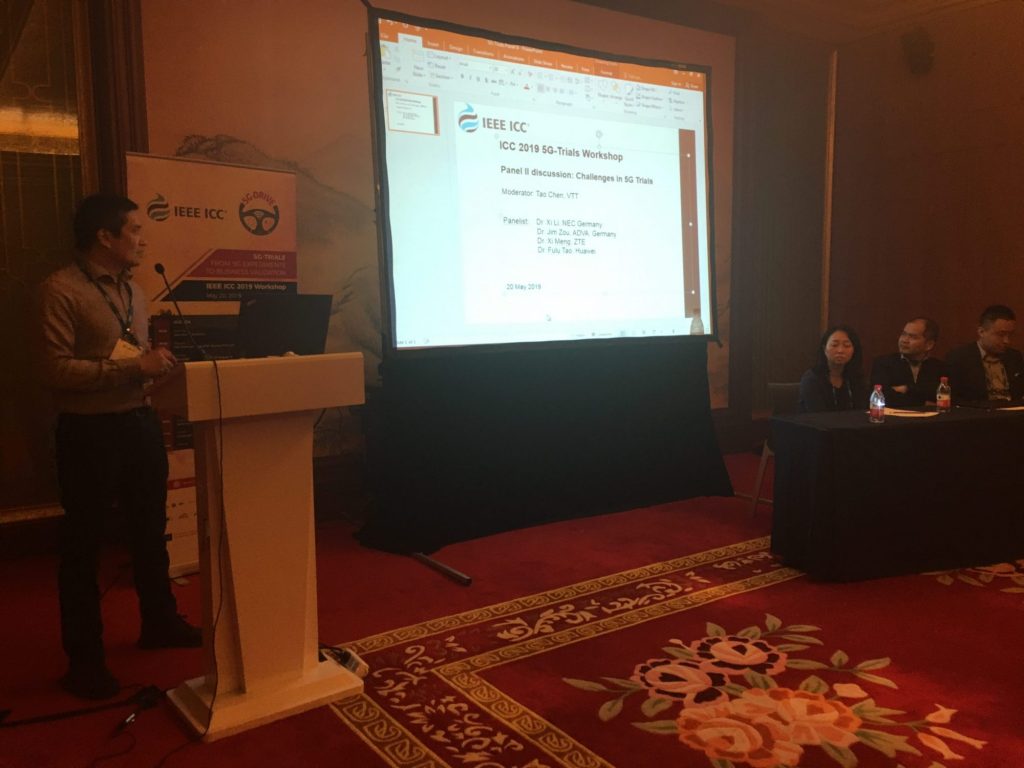 This first 5G-DRIVE organised workshop was an important moment to discuss, explore and better understand 5G developments in Europe and China. It was a relevant opportunity to engage and discuss with interested stakeholders, and is also considered an opportunity to expand EU-China collaboration initiatives.
In addition, we can say that the workshop has brought further understanding of 5G development in both regions and allows the project to engage interested stakeholders. Perhaps also enhancing EU-China collaboration etc.
The 5G-DRIVE project thanks all those that participated in the workshop, the speakers, panellists, and chairs. You can follow the project and meet us again in the next 5G-DRIVE organised workshop, to be held in Dresden (Germany) at the end of September 2019.