On 10th September 2020, a high-level panel on worldwide 5G industry fora took place at the virtual IEEE 5G World Forum. The topic of the panel session was "5G Trends and Collaborations: Regional Visions, Verticals and Inter-Regional Cooperation Activities". The first panel session focused on Asia and Europe. It was moderated by IREST chairman Jean-Pierre Bienaimé and brought together eight panelists from Europe and Asia representing industry, research, and standardisation.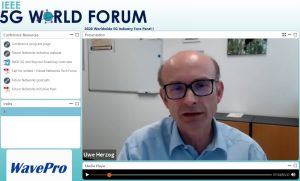 5G-DRIVE coordinator Uwe Herzog from Eurescom talking about the 5G-DRIVE project in the Industry Fora Panel
Among the panelists was 5G-DRIVE coordinator Uwe Herzog from Eurescom. In his statement, he provided some background information on the European-Chinese 5G research collaboration between 5G-DRIVE and its Chinese twin project. In answering the moderator's question on the effectiveness of the European-Chinese collaboration, he emphasized that despite the organizational challenges of coordinating 5G trial activities between two projects on different continents and in different commercial contexts, the joint trial activities have progressed well and yielded a fruitful exchange and interesting results.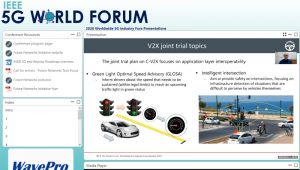 5G-DRIVE presentation by Uwe Herzog
In a separate presentation, Uwe Herzog provided a more detailed overview on the joint EU-China trial activities of 5G-DRIVE and the Chinese twin project in the areas of enhanced Mobile Broadband (eMBB) and Vehicular to everything (V2X).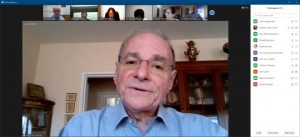 Panel moderator Jean-Pierre Bienaimé and some of the panelists
Overall, the first industry fora panel presented an excellent overview on the manifold activities towards 5G development, testing and deployment in Europe and Asia.
Further information
Programme of IEEE 5G World Forum


If you have a 5G World Forum registration, you can access and watch the video recordings of the 2020 Worldwide 5G Industry Fora Panel 1 session (06:00 AM EDT) and the 2020 Worldwide 5G Industry Fora Presentations (08:30 AM EDT) – they are available for one month after the event, i.e. until 10 October 2020.
5G-DRIVE presentation slides – 5G-DRIVE-Herzog-5GWF2020-5G Industry-Fora-Session