5G-DRIVE was represented in this year's conference programme of EuCNC by its project coordinator, Uwe Herzog from Eurescom. On 16 June 2020, the first day of the event, he participated in the panel on "OpenRAN, including Interoperability/ Interworking with Vendor Solutions", where he presented results of the work on OpenRAN in 5G-DRIVE. In his presentation he talked about "Challenges for Network Slicing in O-RAN".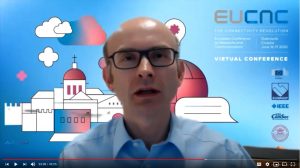 Due to the COVID-19 pandemic, the 29th edition of the European Conference on Networks and Communications, EuCNC 2020, was held online – for the first time in the history of the annual event. EuCNC 2020 had originally been planned as an in-person conference and exhibition in Dubrovnik, Croatia. In the new format, the exhibition, workshops, tutorials and special sessions were dropped, and the three-day programme condensed to two.
Under these conditions, the invitation by Jorge Pereira from the EC's DG Connect to join the panel on "OpenRAN, including Interoperability/Interworking with Vendor solutions" was even more valuable for the project, in order to flag 5G-DRIVE's activities on OpenRAN and to share some results of its research about introducing slicing in the O-RAN architecture with the international research community at this important event.
The topic of the panel session is of high relevance for the communications sector. OpenRAN is about disaggregating the monolithic Radio Access Network (RAN) into individual components with clearly defined interfaces. The solution will be able to run on general-purpose, vendor-neutral hardware and software-defined technology. It is expected to help operators cut the costs of building and managing mobile networks by lowering the barriers for working with new vendors and improving network efficiency.
Besides Jorge Pereira as session chair and Uwe Herzog as 5G-DRIVE representative, the panel included three other experts: Colin Willcock, Head of Radio Network Standardization at Nokia Germany and chairman of the 5G Infrastructure Association; professor Pedro Merino from the Department of Computer Sciences and Languages at the University of Malaga; and professor Thomas Magedanz, Director NGNI at Fraunhofer FOKUS.
After the broadcast of pre-recorded presentations by the experts, the panel engaged in a productive discussion on a number of important aspects of OpenRAN. Topics included the lessons learned from early deployments, the requirements to OpenRAN in network slicing scenarios, and the potential synergies between vendor equipment and the innovations brought about by the OpenRAN ecosystem.
Further information